Magazine
10 Artists to Collect at Estampa
Oct 10, 2022
Estampa, the contemporary art fair has been held in the autumn of Madrid for 29 years, whose scope of work is the art market in Spain. From RedCollectors we have had the pleasure of selecting 10 artists with outstanding works from the fair.
Buy, collect, know and enjoy art from anywhere in the world from galleries such as NF/Nieves Fernández, SET Espai D'art, Blanca Berlín Galería, Espacio Líquido+La Gran, DDR art Gallery, Galería Lumbreras, Víctor Lope Arte Contemporáneo, Proyecto H, Galería Leyendecker, Llamazares Galería among others.
Top 10 Artists to collect at ESTAMPA
1. LAURA F. GINELLINI (MADRID, SPAIN, 1978)
Laura F. Gibellini has had exhibitions at Matadero, Madrid; Centro de Cultura Contemporánea (CCCB), Barcelona; Künstlerhaus Glogauer, Berlin; Capella de Sant Roc, Tarragona; Museo de Los Sures, New York; Accademia di Belle Arti, Rome; International Studio Curatorial Program (ISCP), etc. Laura F. Gibellini's artistic practice is of a processual and diagrammatic nature and is mainly formalized through drawing, site specific installations, video, the creation of objects or writing.
2. CHINGSUM JESSYE LUK (HONG KONG,1982)
The work of
Chingsum Jessye Luk
(Hong Kong, 1982; lives and works in Zurich) addresses the limits of the artistic and its relationship to the everyday, a meditation on the evolution of time, memory, perception and language. The artist collects small and simple objects from everyday life, and her interest lies in monotonous and repetitive gestures. Her work is a study of the cyclical and infinite nature of time, an exercise in discipline, a praise of the trivial, a tribute to boredom. In 2019, Chingsum Jessye Luk received the artistic scholarship from the city of Zurich, currently enjoying a 6-month residency in Paris.
3. ISABEL MUÑOZ (Barcelona, Spain, 1951)
For more than forty years,
Isabel Muñoz
(Barcelona, 1951) has traveled the world with her camera portraying the feelings of human beings in their purest state. In 2016 she was recognized with the National Photography Award, having previously won such prestigious awards as the World Press Photo 1999 and 2004,the Bartolomé Ross, the Unicef Spain, the Gold Medal for Merit in Fine Arts in 2009, the Madrid Community Award, etc. Recently, she has been elected member of the Royal Academy of Fine Arts of San Fernando in the section of New Image Arts. Her images are part of the most important public and private collections around the world.
4. PABLO LINSAMBARTH (SANTIAGO, CHILE, 1989)
Linsambarth holds a degree in Fine Arts from the Universidad de Chile and a Master's Degree in Arts, mention in Visual Arts from the same institution. Through different media such as painting, video and installation, Linsambarth explores the ways in which memory and the family archive, in dialogue with political events and life in the city, produce specific ways of understanding and signifying the world. He has had solo exhibitions in Chile and abroad.
5. AMAYA SUBERVIOLA (MENDAVIA, SPAIN, 1993)
Amaya Suberviola
graduated in Art, specializing in painting and graphics from the Public University of the Basque Country (2011-2015), where he also completed a master's degree in Painting (2016). He has enjoyed several awards and residencies such as the grant for the Expansion of Artistic Studies of Navarra (2015 and 2016), the Nautilus residency (Lanzarote, 2017), Bilbaoarte study grant (Bilbao, 2021), Ertibil selection award (Bilbao, 2021) Basque Government artistic production grant (2021) or the Vegap Production Grant (2021). He has shown his work in cities such as Bilbao (SC Gallery and Galería Lumbreras), Madrid (Sala Galileo), Amsterdam (Marian Cramer Projects), or Miami (Void Projects).
6. CESC ABAD (BARCELONA, SPAIN, 1973)
Throughout his years of experimentation,
Cesc Abad
has developed a special interest in man and his relationship and effect on nature. After years of studying the great masters of painting, he found his technical tool in post-impressionist brushwork and history in symbolism. This mixture leads to a work both figurative and conceptual, as a result of an introspective task from the point of view of nature, but suggesting many questions to the viewer.
7. MANOLO VALDÉS (VALENCIA, SPAIN, 1942)
For the co-founder of Equipo Crónica, the works of the great creators serve as a ''pretext'' for his aesthetic approaches, in which texture, matter, the representation of the human body and expressiveness are palpable, especially in painting. Among his many awards, he has received the National Medal of Fine Arts of Spain (1985), the Gold Medal for Merit in Fine Arts (1998). In 1999, he represented Spain at the Venice Biennale and in 2007, he was named Officier de l'Ordre National du Mérite in France. Selecting some of his huge exhibitions, we can highlight: Monumental Sculpture Place Vendôme, Paris (2016); Manolo Valdés, Marlborough Fine Art London (2016); Sculptures and Works on Paper, Marlborough Gallery, New York (2013); Manolo Valdés, Monumental Sculpture.
8. VIRGINIA RIVAS (MADRID, SPAIN, 1981)
Lives and works in Hervás (Cáceres) Founding Partner. AVAEX. Visual Artists and Associates of Extremadura. Advisory Partner. Black, White and Magenta. Association of Women Artists. Madrid. Represented by DDR Art Gallery. Madrid. In 2006 she graduated in Fine Arts (specializing in painting) from the University of Salamanca, during which time she received an Erasmus Scholarship and was able to study at the Accademia di Belle Arti in Venice. The work is part of the current project of Virginia Rivas, in which the artist reflects on the surrounding chromatics and the perception of it according to the different emotional, social and political situations in which we find ourselves, establishing a dialogue between the realities that shape our lives through color and its plastic-visual versatility, while delving into the possibilities of the medium itself.
9. ESTEFANÍA MARTÍN SÁENZ (BILBAO, SPAIN, 1982)
Estefanía Martín Sáenz
(Bilbao, 1982) is one of the young Spanish artists with the greatest international projection. Her personal work, focused on drawing and textile material research, has recently been awarded with the I Emerging Art Prize Millennium BCP Foundation of Portugal (2018), as well as the XIX Circuitos de Arte Joven de Madrid Award (2008) and the Primer
DKV-MAKMA Drawing Award (2015).
10. JOSÉ LERMA (SEVILLE, SPAIN, 1971)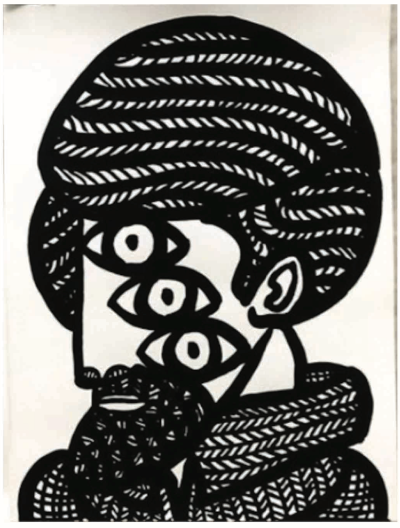 José Lerma 
Drawing, 60,96 x 45,72 cm
Lerma
was born in Seville in 1971. He currently lives and works in Chicago. The demiurge. José Lerma, whose goal is to create a collapse between the personal and historical art, resorts to drawing and painting to establish a modification of perspective, also rethinking the dialogue with the public. Through silicone collages and iconographic mounds, he creates portrait carpets with satire and disobedience. Works scattered on the floor and demystified sacred spaces of art, in a narrative that the New York-based Spanish artist writes with ink and acrylic to decompose an uncertain tradition.